Tyre types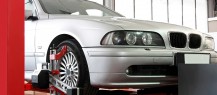 4×4 Tyres
We are the specialists when in comes to 4×4 tyres and we can fit them to any 4×4 vehicle way up to 24″. We have the latest Hofmann tyre fitting and computerised balancing machines to ensure that we don't damage your wheel when changing the tyre, even on the biggest of wheels.
Performance Tyres
Whether you are looking for tyres for the track or just something sporty we are able to help. We have experience of building and setting up track cars and can use this experience to help you with your performance tyres.
Winter Tyres
Winter tyres have become very popular over recent years in this country, but are a legal requirement in several European countries in adverse weather conditions. Driving with winter tyres in snowy and freezing conditions can make a huge difference to the handling and control you get in your vehicle. Braking distances and general driveability are massively improved.
Commercial Tyres
If you have a commercial vehicle we have a range of tyre that will suit you. We are able to work on LWB Crafter and Sprinter vehicles and have the workshop facilities to get you back on the road in the quickest possible time.
Budget Tyres
Here at German Tech we can advise on what tyres offer the best value for money in terms of wear, road noise, stopping distances and cost. We cover nearly every tyre manufacture so will be able to find the right tyre for you.
Runflat Tyres
many cars now come with runflat tyres as standard and it is important to keep to what the manufacture designed to be on the vehicle to aid handling, performance and to maintain valid insurance. We have a range of runflat tyres to suit your vehicle where runflat tyres were fitted as standard.
Motorcycle Tyres
We can supply and fit tyres to most motorbikes and scooters and operate 2 motorcycle ramps in our busy modern workshop.