Tyres
3 Steps to your New tyres
Step 1. Choosing tyres
NOW from £29.90
You may wish to take into account several important factors when buying new tyres. There is an awful lot of different tyres from different brands you can choose from. These are the factors that can :
Grip

– Safety first! Some materials offer better grip between the car and the road than others. Naturally, better grip reduces your stopping distance protecting you from collision as well as helps you drive more precisely.

Wear

– Normal car tyres have about 8mm of tread depth. Due to the friction between the tyre and the road, the tread decreases reducing the effectiveness in wet road conditions.

Road Noise

– YES! Different tyres produce more or less noise. We realise you want to feel as comfortable in your car as it is possible and we take it into account.

Price

– Don't worry if you don't have unlimited money! We will help you chose the right one for you!
Click here to view different types of tyres.






Step 2. Fitting Tyres
It can take only as little as 45 min or even 30 min of your precious time to change ALL 4 OF THEM thanks to years of experience of our mechanics and the professional equipment. You are very welcome to wait this short time in the Waiting Room with a cup of tea and iMac.
Step 3. Enjoy your new tyres!
Stopping Distance!
Stopping distances in wet conditions at 50mph for an average car.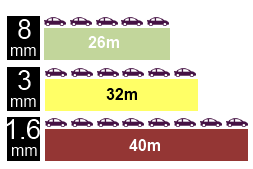 On wet road it takes nearly twice as long to stop with only 2mm than it does with 8mm.
Tyre Tread Depth
The correct legal limit is 1.6mm tread over the central 3/4 of the tyre in a continuous ban around the entire circumference of the tyre.