How We Work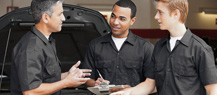 How We Work
Top Quality
You expect top quality service and here, at German Tech we will work closely with you to provide it because no one knows your car better than yourself.
Process
Preparation
Would you like your car fixed?
There are 3 ways of getting in touch with us depending on which one is the most convenient to you! You can either call us (tel. 01223 750 285), email us here or pop in to the garage (click here to see the map). By asking you several simple questions regarding your problem and whether you might have any suspicions regarding the faulty parts we can start to carry out the diagnostics on your car. We are happy for you to have a waiting appointment while we do this and please feel free to ask any questions.
Doing the work
Depending on the magnitude of the problem you can either wait in the waiting room with a cup of tea and iMac or you can leave the car with us and get a free courtesy car!
Supporting You
All work is 100% GUARANTEED and your opinion is INCREDIBLY important to us (Click here to add your opinion about our service).